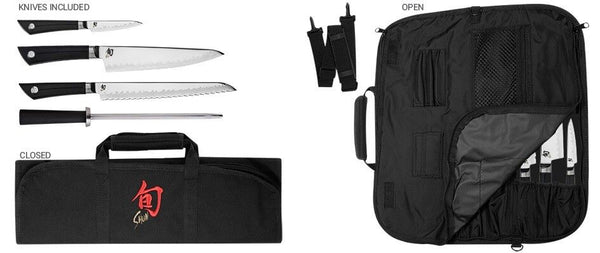 Shun Sora 8" Chef's 3.5" Paring 9" Bread Knife & Roll 5 PC Student Set VBS0499
Out of stock
Home & Garden:Kitchen, Dining & Bar:Flatware, Knives & Cutlery:Kitchen & Steak Knives
Shun
Add to wishlist
Shun Sora 8" Chef's 3.5" Paring 9" Bread Knife & Roll 5 Piece Student Set VBS0499
Shun Sora line that provides exceptional handcrafted Shun quality at an amazing price. Sora uses Shun's proprietary Composite Blade technology to bring together a VG10 san mai cutting edge with a Japanese 420J stainless steel upper. This technology puts high-performance material exactly where it's needed—on the edge. The two blade sections are laser cut, then fit together like pieces of a jigsaw puzzle. Braze welding permanently joins them. The attractive wavy pattern at the joint is based on traditional Japanese sword hamon lines. While Sora's blade shapes and handle design are traditional Japanese, the textured PP/TPE polymer blend handle material provides a contemporary look, secure grip and balance, and is easy to maintain. 
The Shun Sora 5-Piece Student Set includes the Shun Sora 8-in. Chef's Knife, the 3.5-in. Paring Knife, the 9-in. Utility Knife, and a sturdy 8-Slot Shun Knife Roll for carrying them to and from class. The handsome nylon knife roll is embroidered with the Shun logo and includes space for up to eight knives. It folds up compactly for easy carrying.
Set includes:
8-in. Chef's Knife
This is the place to start your Shun Sora collection: the Sora Chef's Knife. Of course you know it's the essential kitchen knife. But what you might not know is that since the Sora line features traditional Japanese blade and handle shapes, in Japan, the Sora Chef's Knife would be called a gyuto. It's used for all the same purposes as a chef's knife—all-around food preparation. But the Sora Chef's has less curve than a Western chef's knife, which means it contacts the cutting board along more of its length, so more food is cut per slice. The Sora has a gentle roll off the tip compared to the large roll of a Western style knife, so the Sora needs to be lifted less, making cutting more efficient. Once you try the Sora Chef's Knife, you'll wonder what you ever did without it.
3.5-in. Paring Knife
You can think of a paring knife as a smaller version of a chef's knife because, like the Sora Chef's Knife, the Sora Paring Knife is quite versatile. The paring knife gets its name from its main function—removing or "paring" away things like peels or pits from fruits and vegetables. It's ideal for peeling, coring, trimming, decorating, and other detail work. Its small size gives you complete control over the tip and edge of the blade. Generally, you'll use this knife in your hand rather than against a cutting board, though paring knives can also be used for chopping small foods, such as garlic cloves or ginger.
9-in. Bread Knife
Prepare to fall in love with this bread knife. Whether you prefer a rustic, crusty bread or a soft and tender loaf, the Shun Sora Bread Knife will cut through easily to give you the perfect slice of bread every time. What makes this bread knife special—and better—is the way Shun has crafted the serrations. These aren't jagged little teeth that chew through your bread. These are razor-sharp "low-frequency" serrations. These wider serrations glide through the bread with ease. What's more, cutting is even smoother because Shun has designed the serrations so that there's an equal amount of cutting power on the forward stroke and on the back stroke. Look at the blade and you'll see that the serrations lean forward on the front of the blade and backward on the back of the blade. That small change makes a big difference in cutting ease.
Honing Steel
8-Slot Knife Roll
Specifications:
Hand-sharpened 16° single-bevel blade with serrations
Steel: Proprietary Composite Blade Technology; VG10 san mai cutting core; Japanese 420J blade upper
VG10 is clad with one layer of stainless steel on each side to create the san mai edge and provide stain resistance
Handle: Traditional Japanese handle design in easy-care, textured PP/TPE blend
 Handcrafted in Japan